Last Updated on August 23, 2015.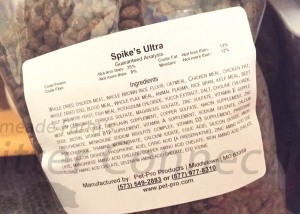 Food Ingredient
Description & Effect
Chicken

Good for sensitive stomachs
Contains only muscle meat

Chicken Meal

Clean meat from the animal that has been cooked, dried, and ground
Most of the moisture is removed

By-Product

Non-muscle parts of animals
Can be specific as chicken-by-products or generic as animal-by-products
By-products are most often products left over from meat source processing (the muscle).

Lamb

Good for sensitive stomachs

Turkey
Poultry Meal

May contain any type of poultry

Animal Meal
Duck
Beef
Meat and Bone Meal

Meat meal with the addition of bones
Does not contain non-edible parts such as feet, fur, or feather
Slightly lower grade than meat meal

Animal Fat

Fat trimmed during the meat processing
Should be limited in most diets.
Food Ingredient
Description & Effect
Vegetables

Vegetables are becoming more popular in pet foods
Common vegetables found in pet foods are carrots and peas
The amount of vegetables in the food and the quality of the vegetables determines their overall nutritional effect on the food
Whole vegetables are considered the most beneficial and parts of vegetables such as beet pulp and pea hulls have different purposes in food other than supporting nutrition

Grains – Corn

Corn is widely used in the animal industry as the main protein source for many animals and is common in many human foods as well
Corn is processed in many different ways and how it is processed determines the quality of the protein and the digestibility of that protein. [Corn is a protein?]
Cattle, hogs, sheep, and poultry are considered "production animals" that are raised for the meat they produce. Whole and ground corn is the key ingredient in their food.
Digestibility
Filler
Food Ingredient
Description & Effect
Ingredients to Avoid

Chemical Preservatives

BHA, BHT and Ethoxyquin are believed to be linked to cancer, liver damage, and other health issues *
Alternatives to chemical preservatives are vitamins such as Vitamin E

Sweeteners

Corn syrup and sucrose are commonly found in human foods as well as animal foods.

Propylene Glycol
Coloring Additives

NA – Not Available