Last Updated on September 20, 2013.
Forehead Furrow or Reverse Mohawk
There is a natural part on the forehead of the hedgehog where there are no spines. 
This natural bald spot is normal and is in no way related to the presence of mites or injury.
A hedgehog can raise it's forehead spines, when it is nervous or mildly irritated. 
The furrow provides space for the raised spines so they point forward, instead of criss-crossing when the skin is pulled down over the eyes.
Tail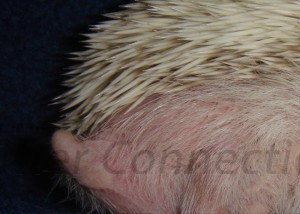 Both sexes have short, stubby tails that are usually hidden under their quills.
Hedgehogs' tails are approximately a half-inch in length.
The tail can be confused with a penis, because the tail curves toward the head when the hedgehog is placed on it's back.  The male's penile sheath and hidden penis are located mid-abdominally.
One thing to look for is a tail is sticking straight out or up:  that means it needs to potty, so be prepared!
Chin Mole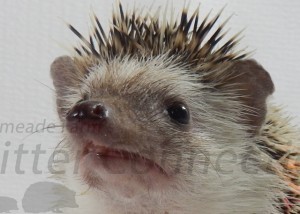 This small bump under the chin is harmless and normal.
It is often referred to as a "cutie mark."
Contributor:  Susan Crocker, Susan's Hawkeye Hedgies