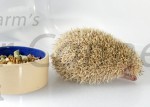 Symptom The loss, or lack of appetitive, is medically referred to as Anorexia. The first sign of illness is often loss of appetite. It is important to get your hedgehog checked out right away by a veterinarian, if you cannot easily...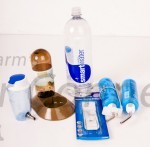 Water Bottles Water bottles are one of the most popular methods of offering fresh, clean water to small mammals including hedgehogs. The tip of the water bottle should hang at your hedgehog's shoulder height. We encourage you to...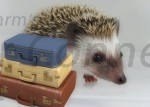 When to Feed Your Hedgehog Hedgehogs are typically crepuscular (awake during dusk and dawn) to nocturnal animals. Wild hedgehogs typically spend most of their awake-time hunting for food. We feed our animals in the morning because...
Variation Between Animals Hedgehogs will eat different amounts depending on their stage in growth, metabolism, and activity level. The quality and type of food also plays a role in how much a hedgehog needs to eat to meet its...
 Hedgehogs and Bathing Many hedgehogs love to play in warm water and will enjoy themselves during bath time. Other hedgehogs may not like the water at all, but bathing a dirty hedgehog is necessary for the overall wellbeing of the...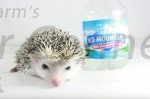 In the Wild Hedgehogs are insectivores and like many other insectivores they can eat one third to one hundred percent of their body weight in insects and food every night. Hedgehogs eat the whole insect including the hard...