Hedgehog Safe Cupcakes 1 cup rice flour  1 tsp baking soda 1/4 cup unsweetened applesauce1/4 cup olive oil 1 cup shredded carrots 1 tsp vanilla 1/3 cup honey 1 egg Mix flour and...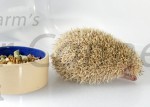 Symptom The loss, or lack of appetitive, is medically referred to as Anorexia. The first sign of illness is often loss of appetite. It is important to get your hedgehog checked out right away by a veterinarian, if you cannot easily...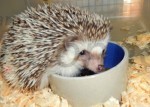 Food Many hedgehogs have developed fatal liver problems due to diet of too much fat. For many years, cat food has been the default food for domestic hedgehogs but many cat foods are too high in fat and low in protein to be healthy...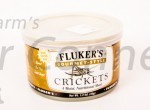 Benefits of Insects as Treats Insects are the most common treat for pet hedgehogs. Hedgehogs are insectivores by nature, and a large portion of their diet in the wild consists of insects. Hedgehogs of the wild and the captive bred...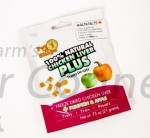 Treats that provide nutrition are always more beneficial than food items that seem to be nothing more than empty calories. Establishing a regular routine when offering treats my help your hedgehog try new treats since they know...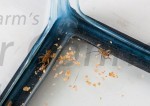 Crickets Crickets can be purchased live from pet stores or online from insect suppliers. Live crickets should be "gut loaded." The food the cricket has eaten (in its gut) is also beneficial to your hedgehog. Gut loaded crickets have...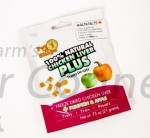 Purpose of Treats Providing treats to your pet hedgehog is both beneficial to you and your pet. We enjoy offering the treats and watching our pets benefit from our efforts. Variety One of the primary reasons for feeding treats to...